Apple might launch its very first VR headset in 2023 along with several other products like an improved HomePod, 15-inch MacBook Air, iMac, Mac Pro, and more.
The obsession with Apple products is never-ending. Apple has never failed to let down its fanatical focus on user experience. Certainly, this could be the reason why people choose Apple products over other products. One of the best parts of technology companies is they keep coming up with innovations regards to technology. There is no single year the company has disappointed its users. At the beginning of this year, here is great news for Apple users. Apple technological trends to foresee the year 2023, this post provides a gist on Apple technological trends. Keeping a few of the top Apple technological trends relevant to the previous year, users can expect few developments.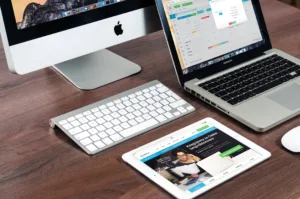 Artificial Intelligence and Machine Learning- No sector could endure without Artificial Intelligence and Machine Learning. Apple company has leveraged the integration of AI and Machine learning to enhance its camera features, natural language processing, and language transition. The augmentation features can be witnessed in the A16 Bionic core processor. While Machine learning is being used for objective-based machine learning as well as image recognition. This helps the developers to make seamless applications with automated drag-and-drop features. Looking into the augmentation features hence proves that AI and Machine Learning going to sustain for a long period.
Cloud Technology- The implementation of cloud technology is not new to Apple. Nevertheless, Apple's cloud service paved the way for the digital environment. More Apple services are expected to be on the cloud platform soon. Also, from the beginning of the year 2023, the company is anticipated to provide all its services/products in a cloud platform.
Wearables- Wearables are something the company made the world turn towards them. Apple is expected to thrive with advancements in this segment. The new advancement in wearables could be users can have access to social media content, more messaging features, and more messaging applications can be projected. The iOS developers have to keep many things in mind before building the application regard to wearables. This is very challenging. The potentials of wearables are boundless.
iOS17- The upgradation in the operating system is dynamic. The prior version of iOS16 was the one that was liked and loved by all the users. Now the wait for iOS17 is not too far. The new version of Apple iOS is expected to have improved security and privacy. Also, new features on notifications and home screen modification can be awaited.
iBeacon- Ever since the introduction of iBeacon back then in 2013, the technology is still trending today in 2023. iBeacon has become essential for marketing strategies. This technology has been a savior for businesses to receive and send notifications to users on basis of the proximity through Bluetooth connection. Utilizing this popularity, iOS developers can emerge with new applications grounded on iBeacon technology. For instance, in a shopping center, Apple stores can connect to its nearby users through this iBeacon technology to send notifications on its newly launched products and discounts if any are currently offered.
Enhanced Security– Data breaches are inevitable, and many giant companies are coming up with the newest solution to overcome security problems. Fortunately, the latest version of iOS 16 has proved to be tough for hackers and get sneak into the devices. Consequently, users can expect improvised security features in the year 2023 through Apple's latest OS version. With the evolving security features, developers should keep in mind while connecting to web services, they should be aware of the AppTrasnportSecurity (ATS) to attain high security and data protection.
Swift 6– As mentioned earlier, Apple is all set to come up with its newer version of iOS it is incorporating the best programming code i.e., Swift 6. The programming code Swift 6 makes the application better. Swift 6 makes the task easier than ever before for programmers as it provides assorted features ensuing in improved tools, API, and language support.   
M3 Powered Imac- Apple is likely to skip the M2-powered iMac and is expected to introduce an Apple Silicon M3-powered iMac all-in-one desktop computer. While there is no exact information on the design and aesthetics, it is likely to look similar to the current M1-iMac and is likely to be available in multiple colour variants.
Apple Pay- The routine of cashless payment emerged with the global pandemic. Cashless payment made life easier than ever before for users. Likely, Apple company did not disappoint its users, with the introduction of Apple Pay users have been given the lenience of purchasing products with few taps. The introduction of this new payment is easy to implement and use.
Apple TV, HomePod, and FaceTime all in one- A multi-tasking product is preferable! Comparing single featured products. Apple is now ready to launch its new product that includes Apple Tv, Homepad, and FaceTime all in one. The capabilities include some top features like a setup box that includes watching a video and playing video games and additional smart speakers that give access to Siri.